John Winfield Gray was born in Mauston, in Juneau County, WI on July 8, 1875. His wife, Dema Beery was born May 7, 1880.
When John and Dema married, I am sure they never gave any thought as to what their children, if they even had any, would grow up to be, but their three children, DeVere, Clifford and Bernard would end up making quite an impact on the little township of Saratoga before all was said and done.
But then, so did John, in his own way.
John first shows up in La Valle, Sauk County, Wisconsin on the 1880 census, a child of five. His mother died when he was an infant and his father remarried soon after. John and Dema were listed as living in Mauston, Wisconsin on the 1905 census, but sometime not too long after, John was working at the Nekoosa Port Edwards Paper Company and living in the area.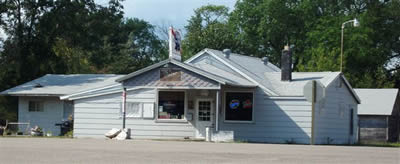 Not unlike many others across the United States, it was during Prohibition in the early 1920s that John started making and selling moonshine out of the basement of his house on the south side Highway 73, not far distant from where the Saratoga Grocery is now located. In fact, most of the Gray businesses and homes to come were located very close to that intersection.
Not unlike many others across the United States, it was during Prohibition in the early 1920s that John started making and selling moonshine out of the basement of his house on the south side Highway 73, not far distant from where the Saratoga Grocery is now located. In fact, most of the Gray businesses and homes to come were located very close to that intersection.
Before Prohibition ended the country was into the Great Depression and then we segued right into WWII, so John was kept busy making ends meet. Besides his cellar speakeasy, he would also run a fox farm and later on a mink farm, as did many of the locals at that time. It seems he did whatever he could to earn money to support his family.
Perhaps the most intriguing business venture that John came up with was not the one he conducted in the basement of his rural house, but rather his perpetual motion machine. Like many others before and after, Gray thought he could change the world if only he could find a way to make it work. According to a step-grandson, John claimed to have perfected it, keeping it covered in the back, shrouded in secrecy. Unfortunately, or who knows, perhaps fortuitously, it tipped over and was ruined before John could patent it.
But even with John's varied entrepreneurial skills, it was John and Dema's eldest son DeVere Chester Gray, who led out in what would eventually become known as the closest thing to a dynasty that Saratoga would ever know–the Gray Dynasty. DeVere's legacy, would not last much longer than his time in the area, but people would still talk about it 75 years later.
Born November 25, 1897, DeVere Chester Gray was the eldest son of John and Dema Gray, settlers here more than one hundred years ago. For his part of the Gray Dynasty, his legacy would not last much past the time he lived here, but for nearly twenty years, DeVere was very well known indeed.
It was the heyday of dance pavilions. It seems that nearly every stretch of road in the area had one, Petenwell Rock Pavilion, Lone Rock Pavilion and Hillside Pavilion to name a few.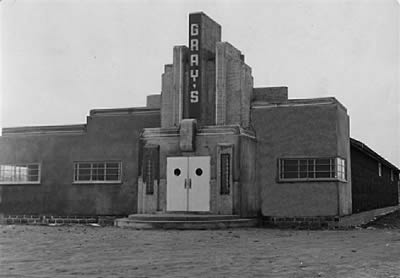 April 15, 1928. The box ad in the paper announces a dance at Gray's Pavilion (photo contributed by the Gray family), three miles east of Nekoosa on the new "concrete road" with music by Al Ross and his Louisiana Red Devils.
What a draw that concrete road would have been and there must have been some stiff competition with some of the other dance halls, because often the ad stated (in caps) "Same Price as Others." Cost varied from 15¢ to free for the ladies, and 25¢ and up for the "gents," as they were called.
From "Peter's Tyroler Concertina Troup from Germany" to "Barb and Pete and their Rubetown Entertainers," Gray's had it all. One after another, the entertainment both local and imported, drew the crowds: Frank Mel and his orchestra; Frank Cibula; Lutz and his Florida Dance Band; Bob Temple and his orchestra; Melbrech's Orchestra; Archie Hamel and his band; Rita Rae and Her Orchestra; Red Fox; The Golden Aces; Lee Warren and His Cowboys; Wyoming Red and His Saddle; John Krutsch's 10-Piece Band; Duke and his Melody Kings; Sy Staege and his White Owls. With dances every Saturday night and often other times too, the list was endless.
Then, in 1939 Gray decided to move his business to a better location. He sold half of the old pavilion to Bill Heeg Sr., who moved it to North Hollywood Road and used it as a barn. The hardwood floor was torn out and used as flooring in his son's home and for years, the decorations that hung in the dance hall, still hung in the hay mow. That building was finally torn down in the early 1980s.
The other half was moved just down the road a mile east to southwest corner of the intersection of Highway 73 and 13, where a new bar and art-deco front was put on the old pavilion, and where DeVere Gray's double highway presence really drew the public. That New Year's Eve ushering in 1940 was the gala grand opening at the new location.

It was not just the weekend dances that brought in the people though. Gray was smart enough to know that people were looking for respite from the depression and then the war years, so he provided that in the form of balls and holiday celebrations–the May Ball, June Ball, Harvest Ball, St. Patrick's Day Party, an Easter Dance, and the Confetti Ball. There were occasional wrestling shows and free movies. Many wedding dances were also held there and then there was roller skating. Many of the area people recall having spent hours skating the day away at Gray's.
It was not all just fun and games however. Sometimes there were the fights, with disorderly conduct charges filed against a "gent" and the defendant making an appearance in front of Judges Conway, Pomainville, or Randall. Once in a while, a minor was served and there was a fine.
Sometime during his years in the area, DeVere also ran a bar in Nekoosa where dances were held. Gray's bar was down under street level at what would later be known as Downing's Bar and currently is called Best in Town.
In 1945, DeVere Gray decided he had accomplished what he wanted here and moving with his wife Helen to California, sold the big ballroom to Tom Joslin and Oscar Bey.
Joslin and Bey remodeled and reopened in February 1946, under the name Grand, thereby only having to change the last two letters on the sign from Gray's to Grand, but three months later, on May 7, 1946, a problem with defective wiring in a sign caused a fire which totally destroyed the building. No one was injured but that was the end of Gray's Pavilion.
DeVere's son Howard who lives in Henderson NV, has a giant scrapbook of those days of the dances. Those photos and some fading memories held by some of the older townsfolk are now all that is left of the enterprise undertaken by the eldest Gray son.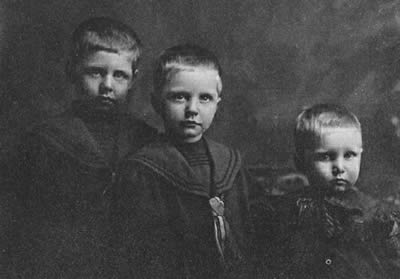 The second son of John and Dema Gray, Lealand Clifford, known as Clifford (photo contributed by the Gray family), was born March 30, 1899, just in time for the turn of the century.
By 1921 Clifford was working at the Nekoosa Edwards Paper Company in a "good position" according to the Daily Tribune when it ran an article on his wedding to Valeria Edwards in September of that year.
Gray had one daughter with his first wife and then after her death, he married Vera McNutt. Together Vera and Clifford would raise nine children in their house on Highway 73 South, just a few blocks from where his father had raised him. The second part of the Gray son dynasty was to begin.
Although with maybe not such grand and glorious aspirations as his father had, to invent the world's first perpetual motion machine, or even his brother who owned a large dance pavilion, none the less, Clifford and his wife Vera left a mark on the area.
Not only did Clifford work at the mill, but during part of that time he and Vera were operating a restaurant in Nekoosa — the Loop Café Market where Vera cooked.
But that was not all. Just as his father and two brothers had made good use of their Highway 73 location for business purposes, Clifford would do the same, opening a modest drive-in on his property, next to his house. What with his many daughters to serve as car-hops, it was an easy way to make money over the years, serving up ice cream, hamburgers, root beer and other tasty treats.
Clifford spent his whole life in Saratoga, just a stone's throw from his brothers and father, and passed away at age 81 in 1980, thus closing his chapter in the Gray Dynasty book.
The drive-in he built can still be seen from the highway, next to the house where the Gray family lived, but now it has been turned into a small home. One of Clifford's grandsons, Garth Winker, now lives in the very place his grandfather built, and where his mother, Sharron, served customers all those many years ago at their '50's style drive-in. So in a way, the Gray legacy lives on.
And then there was Bernard, the youngest son of John and Dema Gray. Perhaps more than his father and both of his brothers, his legacy lives on strongly today in the form of the business he left.
Born January 21, 1901, it was 1923 when Bernard first married Lena Keefer from the Juneau County township of Armenia. Together they had six children.
Bernard worked as a machinist for the Nekoosa Edwards Paper Co. and later worked for the Nekoosa Foundry. During this time he also trapped for fur.
After Lena died he married Elizabeth Speas in 1945 and decided to go down a new path in the work world.
In the tradition of his father and his two older brothers, he wanted to go into business for himself. In 1947 he purchased land on the corner of County Road Z and Highway 73, just to the west of where his brother DeVere had the first Gray's Pavilion, to the east of where his brother Clifford had his drive-in, and just northwest kitty-corner across the field from where his father had started it all. On that small corner lot he built a combination rural grocery store and gas station. 

Bernard operated his store in the town of Saratoga until retiring in 1965. During those years at the store, he also kept busy with other things, including raising otters that he trapped and then kept as pets. It was a quite a draw for young and old alike to come and enjoy the otters.
Bernard sold Deep Rock gasoline at his little grocery store, and at night you could see the bright yellow sign with the blue block Deep Rock letters from a mile away.
Gray's Store as the Deep Rock station was called, remains open for business today, one of the few "mom-and-pop" grocery stores left along the highways of Wisconsin and across the country, with most having been put out of business by the large mini-marts which have sprung up everywhere in the past twenty-five years.
Although the gas pumps are long since gone, you can still buy groceries from the present owner, Doris Anderson. And even though it is now officially called Saratoga Grocery, to most of the locals, it will always be either Gray's Store or "the little store."
The color of the building has changed over the years, and in fact coincidentally or not, is now gray–perhaps an accidental homage to the original builder. There has been some remodeling from time to time as well, but many of the same services offered by Gray still remain. You can grab a loaf of bread, a bag of chips, or a pound of freshly-sliced lunch meat.
You can even buy some bait, register a deer or pick up a burning permit – all pretty handy to the town residents, but perhaps the most important service to those of us who grew up with Gray's Store is the fact you can still peddle your bike down to the store and run barefoot inside to buy an icy cold bottle of soda on a hot summer night. 

The original Coca Cola chest machine still sits in the same corner, the building still resonates with the same feeling, even sixty years after it was built, the last reminder that all the businesses owned by the Gray family are now defunct, except for this one.
The final chapter of the original Gray Dynasty has long since ended, but generations still remember the impact the three brothers had on the town of Saratoga . . . all those years ago.
Story and Photos ©Rhonda Whetstone Neibauer/Saratoga Historian/2007
For permission to use the above, please email Rhonda@RhondaWhetstone.com