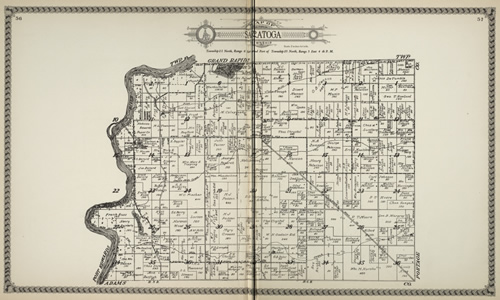 Down on So. Hollywood Road, fairly close to its intersection with Highway 73, a Saratoga Township resident is having some problems. His solution has been to take it to the Saratoga Town Board.
Notice is hereby given by the undersigned that on the 3 day of November there strayed on to me a black boar hog weighing about 200 pound. Also one back sow. Also one black sow with some small spots of white weighing about 200 pounds each. Of which I have shut in a pen holding fore fine and damages. I also require owner to prove property and pay damages and take them away. George W. Nutter (Source: Saratoga Town Notes, Nov 1893. Book 1, Page 178)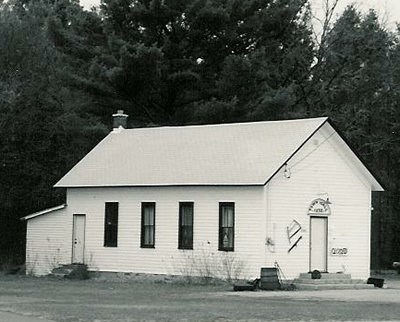 George and the hogs were just one of the interesting stories discovered while compiling a history of Saratoga Township, which in 2007 will hold its sesquicentennial. The town books provided a very interesting look back on a time when the county and the township were both new and things were done a lot differently than now.
Although written for the most part in beautiful script, it was obvious that for many of the elected officials, a lack of schooling and perhaps being first or second generation emigrants, did not allow for proper grammar, spelling and punctuation. It certainly made the reading more interesting though.
One thing that did not change much through the years, was the method of notifying residents of important town meetings.
Michael McDonald recorded that notices for the General Election in 1890 were posted as follows: One at the schoolhouse where said election is to be held, one on a pine opposite George Nutter's barn, one on an elm north of Robert Wakely's house, one on the Plainfield Road between Gallagher's and Finley's, and one at the school house in school district No. 1.
That was in the 1800's though and things evolved. Maybe.
By March 1927, the method of posting town meeting notices seemed much more efficient as with the new bridge at Nekoosa and more businesses in the township, the notices were posted on: the East side of the Nekoosa bridge, Townsend's corner, Town Hall corner, and Blue Goose corner.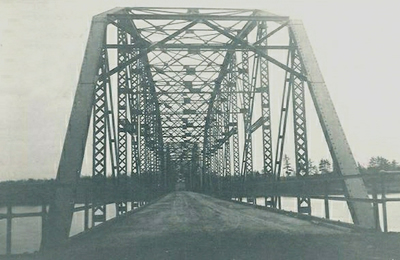 In 1928 though, that changed again to other "hot spots" as the township grew: Ross School, east end of Nekoosa bridge, Town Hall, four corners by Mullen's, and Lundberg's schoolhouse corner.
It is hard for most of us nowadays to imagine getting our news from a fence post or oak tree, so we usher in the 1950s and 1960s and the modern world of telephones, regular mail service and daily papers.
In January 1956 there were a group of residents opposing the opening of a mink ranch on Hwy 73 next to Jung's Motel and the Drive-in Theater, and a special meeting was called. Notices were posted: on pole by the Ranger Station, a pole at Hollywood Store, a pole on the NW corner of the 13/73 intersection, a pole at the NE intersection of town roads, and on the town hall.
On December 12, 1961 the meeting time for the proposed new town hall was posted: on a pole at intersection of 48th and Church, the east wall of the town hall, a pole at the intersection of Range Line Rd and Hwy 73, a pole at So. Hollywood and Hwy 73, and a pole at intersection of Ranger Rd and Hwy 73.
We had not come a long ways, baby.
Thankfully, with the advent of cell and camera phones, computers and email, and fast cars, news travels now at nearly the speed of light. We can know about an upcoming meeting within seconds of the motion being made. The only signs on the fenceposts and poles are for garage sales and giving away kittens.
Minutes from an 1888 meeting read: Moved and caried (sic) that the Town Boards (sic) Report by (sic) excepted (sic).
Moved and caried (sic) that there by (sic) $250 dolards (sic) raised for town expences (sic).
Just ten years later, on Sept 2, 1898, a petition was brought before the Town Board requesting a vote be called for a direct tax on Saratoga property in the amount of $195 for the building of a new Town Hall.
One almost assumes from this that there must have been a lot of waste by the board in 1888 if they spent more in a year for expenses than the cost of that fine new Town Hall ten years later. It was probably partially the cost of nails to put up all those notices all the time, and of course payment for the wear and tear on the horse forced to haul its owner over every inch of the township, posting notice after notice.
I am betting that if George Nutter had spoken to that guy, he could have told him who owned those three hogs.
Story and Photo ©Rhonda Whetstone Neibauer/2006 
For permission to use the above, please email Rhonda@RhondaWhetstone.com